It's no secret that the hottest fashion trend this fall is plaid. It's never completely gone from the fashion scene, but this year, plaid is back in a big way.
Lindsey Desimone of Elle Décor notes that millennials would likely cite the now-iconic teen hit Clueless as the moment plaid entered our fashion-forward consciousness, the go-to fall pattern dates back much further – nearly four centuries.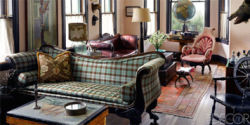 And while our love for plaid has hit highs and lows over the past several decades (check the 1970s when it was used on everything from shirts to suits to chairs – then in the 90s when it was all over the grunge scene), it's definitely going to be on – and off – the runway this year. Look for it not only in fashion – even in designers like Michael Kors and Coach – but in home décor, barware and accessories as well. Even Target knows we're mad for plaid this fall!